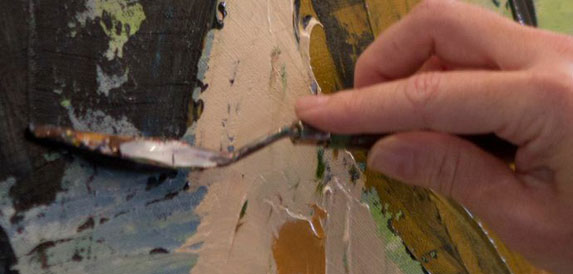 Fall is upon us in Houston, so it's a time when people can actually venture out of their homes without being oppressed by heat and humidity. So you may be starting to fill your social calendar with different things to see and do in Houston.
Here's an idea: why not take some time and visit the Griffin Gallery?
Susannah Virginia Griffin has opened a new art space in the Upper Kirby area of the city. The Griffin Gallery is at 2825 Colquitt Street, which is a block north of Richmond Avenue and about a quarter mile west of Kirby Drive.
When you visit the gallery, you'll have an opportunity to view some of Susannah's latest works, including acrylic paintings with brush and palette knife, oil paintings, ink and graphic design pieces, and even some of Susannah's iPhone photography. You'll be inspired by the beauty and grandeur of Susannah's creativity and talent.
One thing to keep in mind: the Griffin Gallery is open by appointment only. So once you find that open space in your calendar, give Susannah a call at (713) 438-5220 and tell her when you would like to stop by her gallery.
It's easy to make an afternoon (or even a day) out of a visit to the Griffin Gallery, because there are several other attractions in Upper Kirby within walking distance. Just to the east, there is The Queen Vic Pub & Kitchen as well as Sonoma Retail Wine Bar & Restaurant. You'll also encounter the Music Box Theater and a few other galleries before you reach Kirby Drive. And if you arrive on a Saturday morning, you can enjoy the Urban Harvest Farmer's Market west of the Gallery near Eastside Street.
So why not make plans to visit the Griffin Gallery soon? Again, be sure and call and make an appointment at (713) 438-5220. You'll be glad you did!